We are aware of a growing number of counterfeit filters on the market. Here's how to know for sure that your Black Berkey® Elements are authentic. Plus, learn what to do if you're sold a counterfeit product.
LOOK AT THE SIDE OF THE BOX

One Sample of a Counterfeit Black Berkey® Box (Side):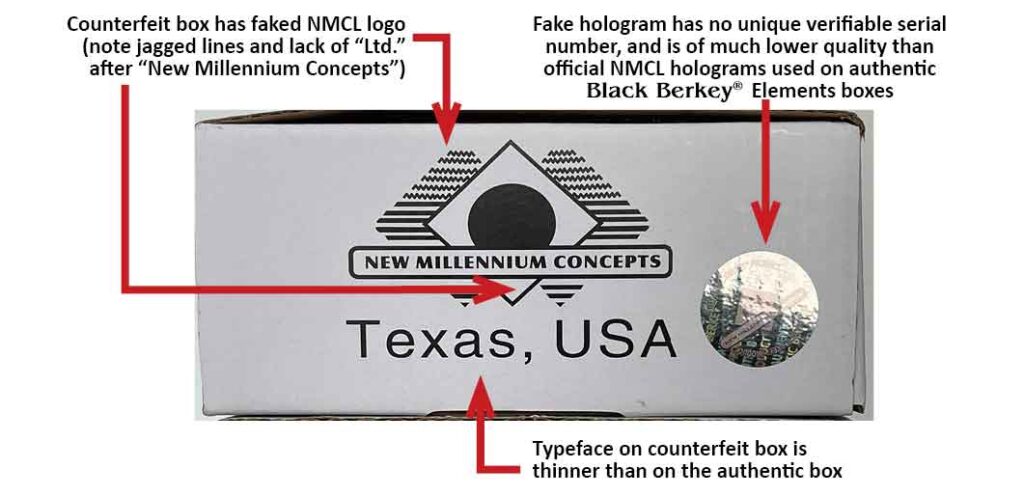 An Authentic Black Berkey® Box (Side):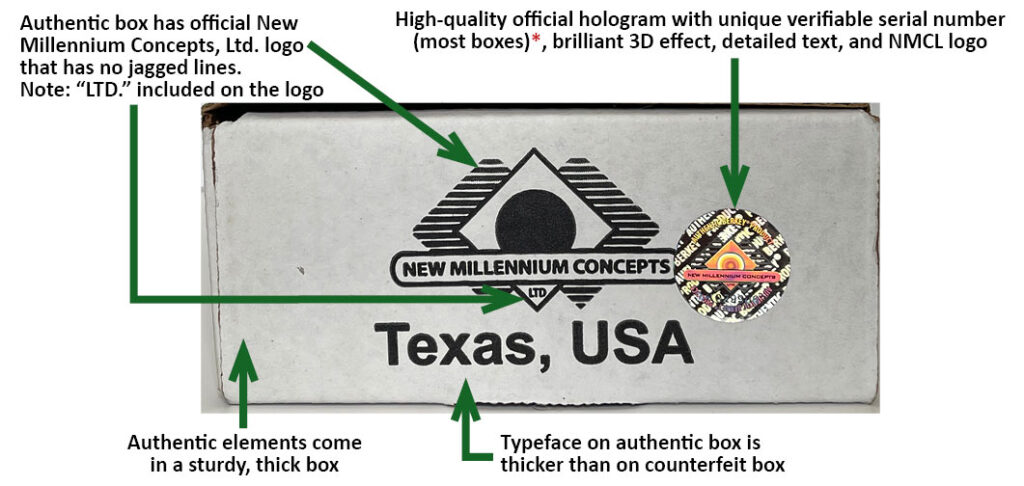 SEE WHAT'S INSIDE THE BOX

One Sample of a Counterfeit Black Berkey® Box:
(Element Packaging Inside Box)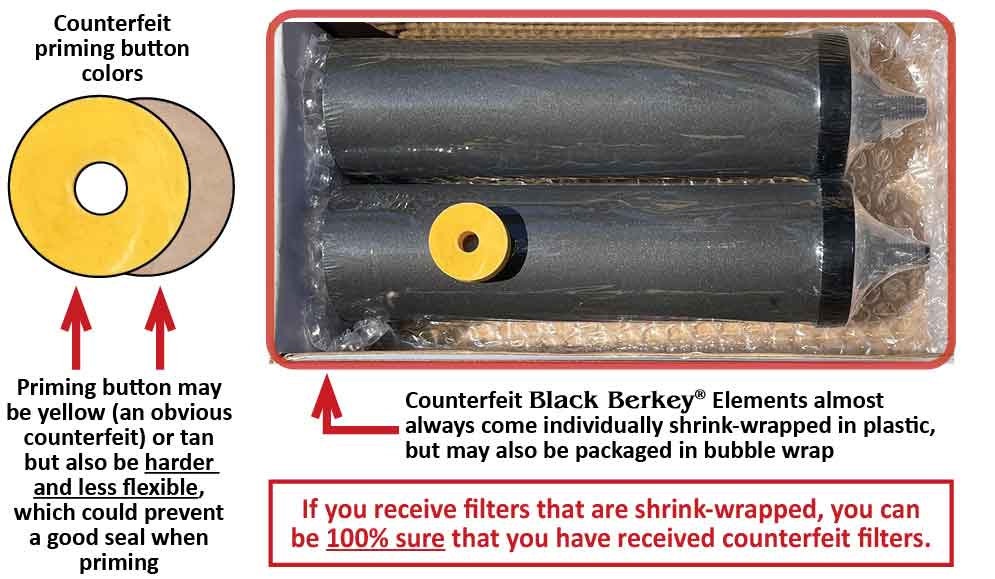 One Sample of an Authentic Black Berkey® Box:
(Element Packaging Inside Box)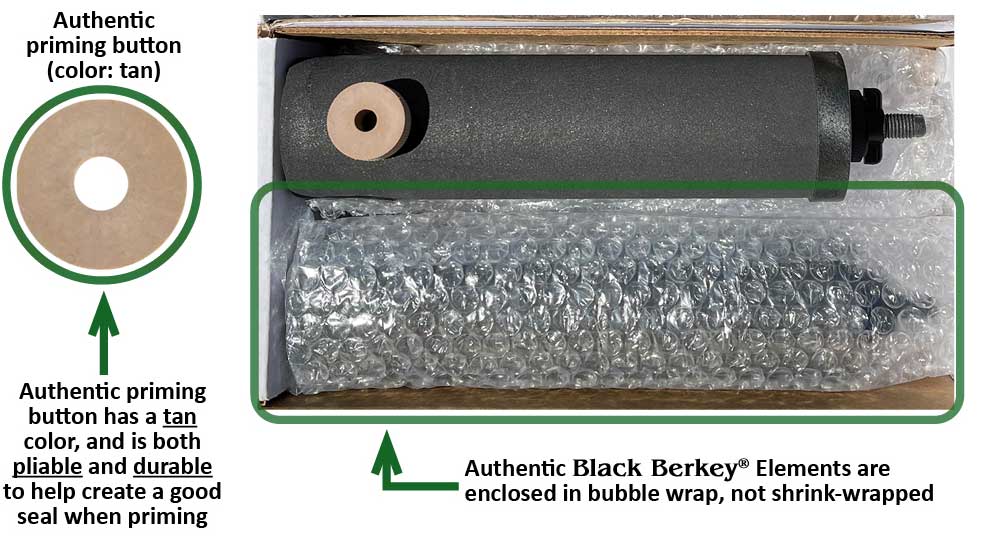 USING HOLOGRAMS TO COMBAT COUNTERFEITS
With the appearance of knock-off and counterfeit filters in the market, NMCL took strategic measures to develop authenticity verification holograms that were affixed on all Berkey®-branded filters. After a period of time, we discovered that not only had criminals copied our filters and packaging, but they were also copying our authentication holograms. We therefore began to add features to our holograms to help consumers distinguish between authentic and counterfeit filters, including verifiable serial numbers for which consumers could call our customer service department to verify if the Berkey® filters they purchased were genuine or fake.
In an effort to stay ahead of the illegal counterfeit activities impacting the Berkey® brand, we have had to make several iterations of holograms. Second-generation holograms are currently being used on all Berkey®-brand filters, and we will soon release a more advanced third-generation hologram with more advanced features.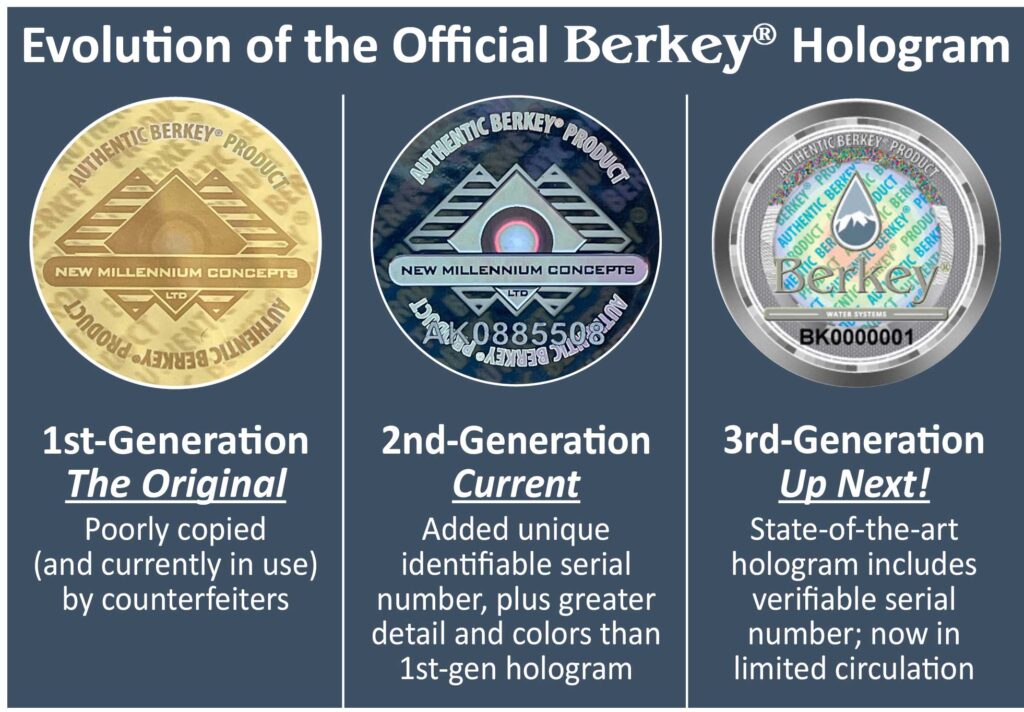 Samples of Counterfeit Holograms: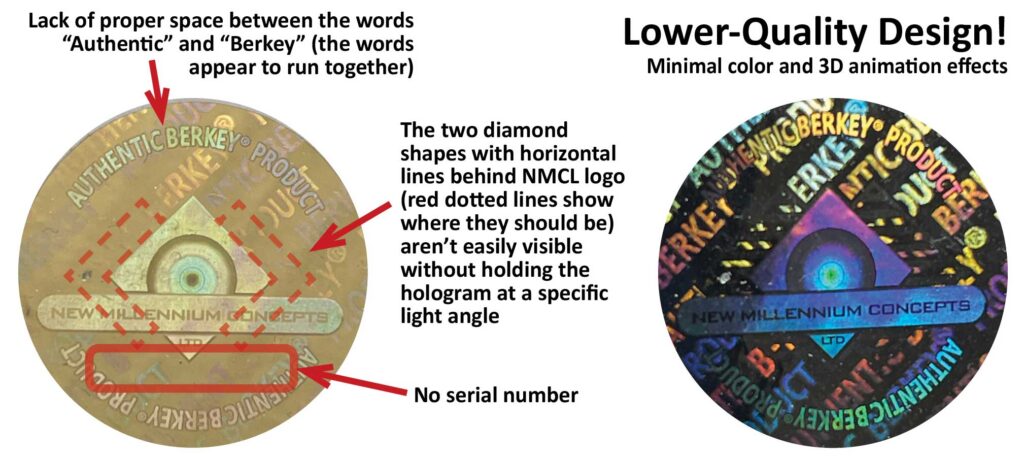 Authentic (Current) Second-Generation Hologram: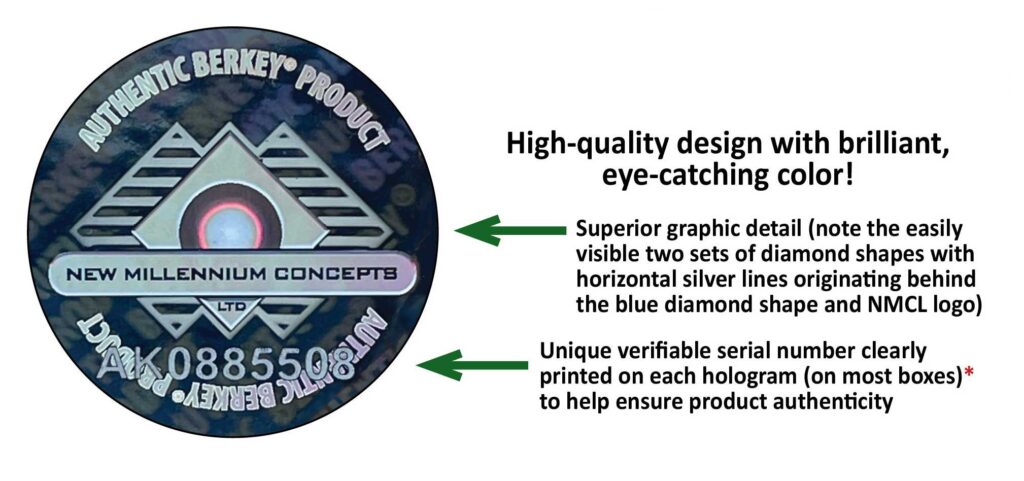 *Authenticity verification holograms with unique verifiable serial numbers are found on all current packaging for Berkey® filters including Black Berkey® Elements and Berkey PF-2™ Fluoride and Arsenic Reduction Elements. Due to mixed inventory in our distribution channels, some older packaging of Black Berkey® Elements boxes may not have a verifiable serial number on them. Absence of the verifiable serial number on the hologram on Black Berkey® Elements box does not necessarily indicate that the elements inside are not authentic. Consumers that identify they have received Black Berkey® Elements in a counterfeit box can be 100% sure they have counterfeit Black Berkey® Elements. At some point, all holograms on Black Berkey® Elements boxes will have an identifiable serial number. However, consumers that receive Berkey PF-2™ Fluoride and Arsenic Reduction Elements without a hologram displaying a serial number is an indication that the elements are counterfeit. Consumers may contact NMCL Customer Service to verify if they have authentic Berkey® elements.
Do You Believe You've Been Sold Counterfeit Filters? Here's What to Do Next
After reviewing those examples above, if you suspect your online marketplace purchase (from Amazon, eBay, etc.) may contain counterfeit elements, we suggest the following course of action:
Demand a full refund from the dealer or marketplace.
Return the product stating the specific seller from whom you purchased, shipped you counterfeit filters.
Leave a review on the specific seller's storefront stating that the seller sold and shipped you counterfeit filters, rather than authentic Black Berkey® Elements.
Contact NMCL to report the marketplace and seller that sold you the counterfeit product (this helps us identify and take action against unauthorized sellers). We also urge customers who have been fooled into purchasing untested knock-off carbon block filters advertised as replacements to follow the same procedure.
Replace the counterfeit filters by purchasing genuine Black Berkey® Elements from an authorized Berkey® dealer.